New Hyundai Santa Fe for Sale near Memphis, TN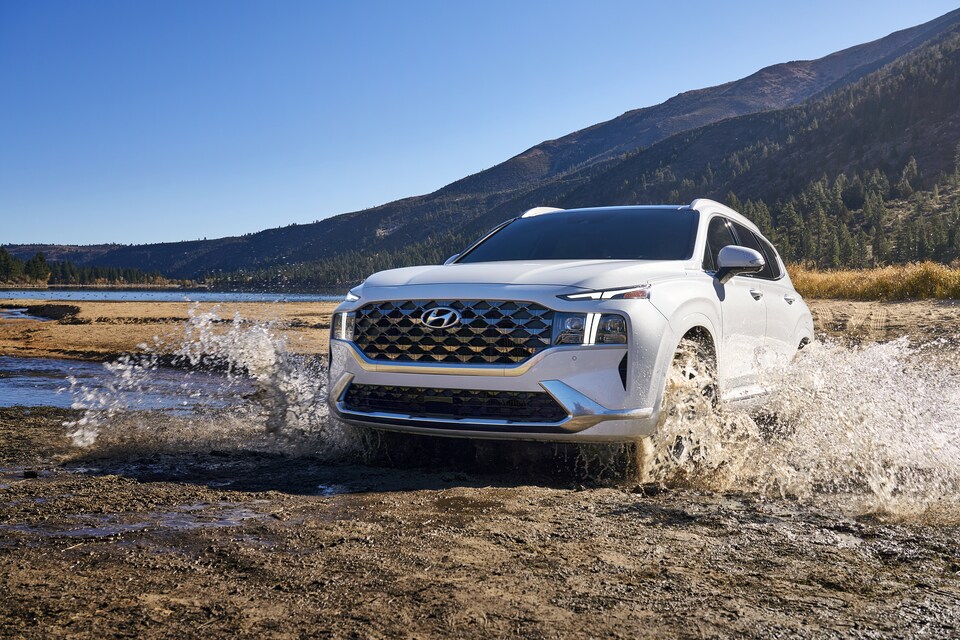 Find Your New Hyundai Santa Fe at Homer Skelton Hyundai in Olive Branch MS
When you're interested in finding a new Hyundai SUV, the Santa Fe might be just the right model you'll want when you come to Homer Skelton Hyundai. We have many new SUV models in Olive Branch, MS, but one of the main SUVs is the Santa Fe, and we have sales associates who are excited to help you sort through your options when you come at Homer Skelton Hyundai. Our sales team is very knowledgeable about the Santa Fe and Hyundai in general, and they'll gladly help you learn more about the brand and this model.
Features of the Hyundai Santa Fe
The Santa Fe is a midsize SUV that offers a comfortable amount of cargo room, and the model offers comfortable seating for five people. There's also a great amount of technology and safety features. Get an eight-inch touchscreen, Bluetooth, HD radio, USB ports, and Apple CarPlay and Android Auto capabilities. These technology features come standard on the new Santa Fe. Additionally, you'll get safety features like blind-spot collision avoidance, rear collision avoidance, lane-keeping assist, forward collision avoidance, and smart cruise control. You'll appreciate that you can upgrade to leather seats and other luxury features as you choose one of the higher trim levels, and the exterior has lots of styling details that make the Santa Fe attractive, such as LED headlights, alloy wheels, and heated side mirrors.
Why People Prefer the Hyundai Brand
Many people opt for a Hyundai model because this brand is known for having long warranties, which could help you if you ever have a major problem with your vehicle. Additionally, Hyundai is known for offering vehicles at low prices. But even though you're paying less for a vehicle, you're still getting the same types of models that many other brands offer, including SUVs, sedans, and trucks. Additionally, many of the features are on par with other brands.
Why People Choose to Shop with Us
Transparent financing is one of the main reasons Memphis, TN and Southaven, MS customers like shopping at Homer Skelton Hyundai. We have a finance team here to ensure that you completely understand what financing options are available to you and what you can expect throughout the entire time you choose to finance with us.
We also offer flexible test drives for anyone interested in trying before buying. You can get a good feel for the performance, safety, and comfort features to help you decide if the Santa Fe is right for you and which trim level will fit your needs.
When buying your next Santa Fe to be simple, you want to work with a Homer Skelton Hyundai that offers a streamlined purchasing structure. Since we have a financing center, you don't have to talk to an outside lender. Instead, we'll do that legwork for you, so we're a one-stop shop.
If you always worry about whether you'll like your purchase, you can rest easy when you work with Homer Skelton Hyundai. We have a three-day, worry-free exchange policy, so you'll be able to switch out your vehicle for something else if you get cold feet after you take the vehicle home.
Visit Homer Skelton Hyundai Soon
We currently have lots of Santa Fe SUVs in stock, and we have sales associates who will gladly help you sort through your options. They know our inventory and can help you understand which trim level will work best for your needs. Whether you're in Hernando, MS or Collierville, TN, schedule a test drive at Homer Skelton Hyundai when you figure out which model you like.