New Hyundai Sonata for Sale in Olive Branch, MS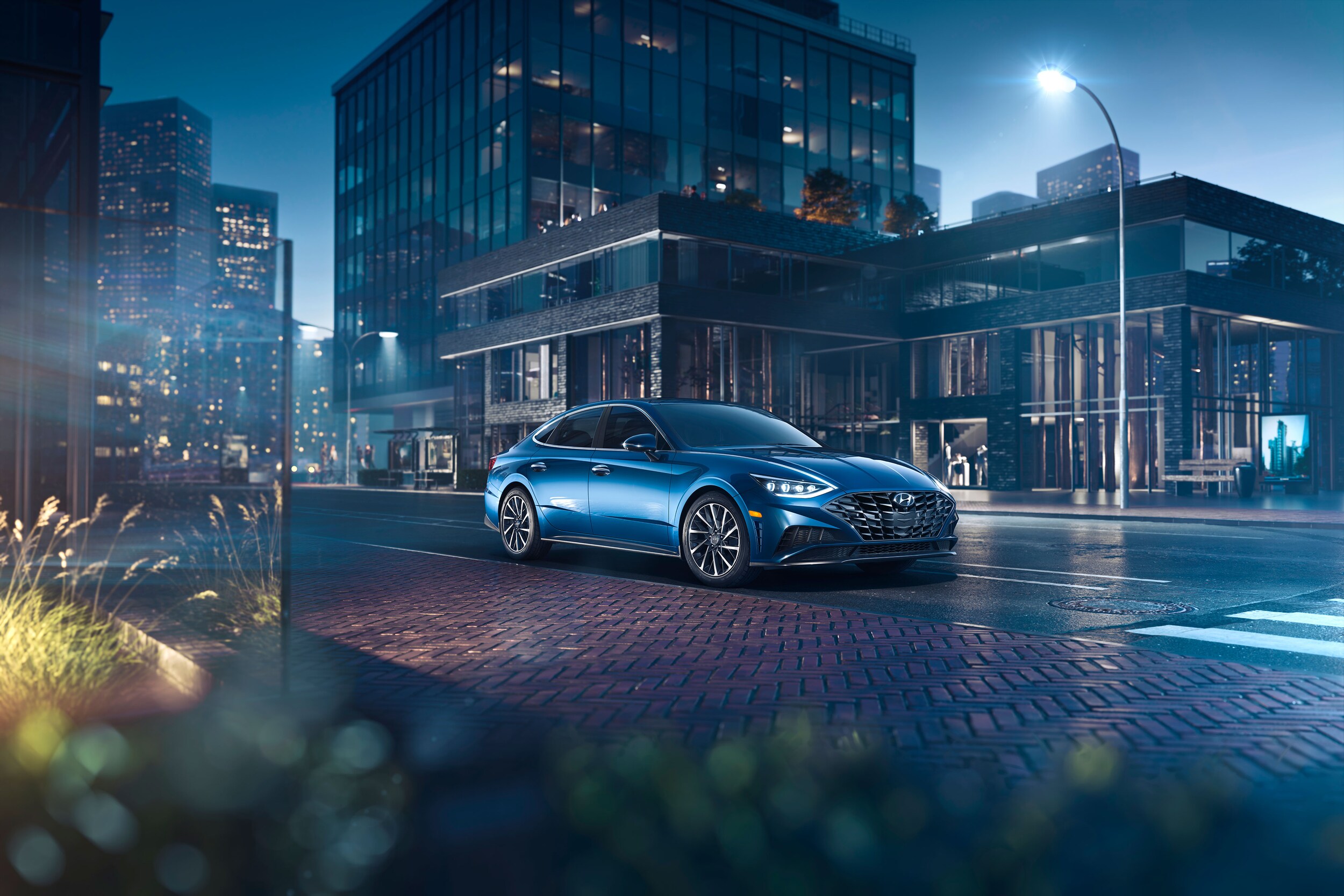 The New Hyundai Sonata in Olive Branch, MS
The all-new Hyundai Sonata is a game-changer for midsize sedans. Our dealership offers a wide selection of the model you're looking for. Browse our inventory to find your perfect match by price, trim level, exterior paint finish and must-have features. Don't see exactly what you want? Not a problem! We can custom order the model to suit your needs. Visit our dealership or contact us today to arrange a test drive and take the car of your dreams home with you. Stop by and see us soon!
The all-new Hyundai Sonata is packed with features, delivers great performance and fuel economy and is loaded with safety features. All in all, it's an excellent choice for those looking for a reliable family sedan that won't break the bank. The Sonata is hard to beat for anyone who wants an enjoyable driving experience combined with practicality and great value.
At Homer Skelton Hyundai, we offer various financing options for the new Hyundai Sonata, making it an even better deal. Our friendly and knowledgeable sales staff will be happy to answer any questions you may have about the Sonata or our financing options.
Practicality
Performance-wise, the new Hyundai Sonata comes with a variety of engine options. The engines provide plenty of power for a comfortable ride on Memphis, TN roads, and the transmission is smooth and responsive, helping maximize fuel economy. The suspension absorbs road imperfections to provide a smooth ride, while advanced technologies like adaptive cruise control help make long-distance drives more enjoyable.
The new Hyundai Sonata also offers standard front-wheel drive and available all-wheel drive for increased grip in slippery conditions.
The new Hyundai Sonata is packed with safety features, making it one of the safest vehicles on the Hernando, MS market. It features a comprehensive suite of driver-assistance systems, including blind spot detection, lane keeps assist and automatic emergency braking. It also features adaptive cruise control for long-distance driving and forward-collision warning to help avoid potential accidents.
Visit our dealership to browse our inventory of New Hyundai Sonata vehicles and find one perfect for you. Our experienced sales staff can help you customize your Sonata with the right options and trim levels to fit your needs. We look forward to seeing you soon!
Design
Hyundai has put much thought into the new Sonata's interior design and build quality. It features comfortable seating and plenty of legroom and headroom in the front and rear seats. The cabin materials are also of high-quality, with soft-touch surfaces throughout.
The exterior design of the new Hyundai Sonata is stylish and modern. The car's low, sleek profile gives it an aerodynamic appearance, while the available LED headlights add to its premium look. There are also plenty of color options available, so you can find one that perfectly suits your taste.
The rear of the Sonata is finished with a chrome-accented rear bumper. At the same time, the available panoramic sunroof gives you an open-air feeling and plenty of natural light as you cruise around Southaven, MS.
Trim Levels and Features
The new Hyundai Sonata is available in five trim levels: SE, SEL, SEL Plus, Limited and Limited 2.0T. Each trim has its unique features and options that make it perfect for whatever type of driver you are. A Sonata is a great choice for many Collierville, TN drivers whether you're looking for a basic model or one with all the bells and whistles. The top-of-the-line Limited 2.0T comes with an array of luxury and convenience features to give you the complete driving experience.
At Homer Skelton Hyundai in Olive Branch, MS, we are proud to offer the new Hyundai Sonata at an unbeatable price. Come and visit us today and test drive this great car for yourself! We look forward to helping you find the perfect vehicle for your needs. Contact us at Homer Skelton Hyundai today to learn more about our current inventory.